The main goal of the SULE-IC is to provide and opportunity for academicians and professional from various education related field from all over the world to come together and learn from each other. Furthermore, the additional goal is to provide a place for academicians and professionals with disciplinary interests related to education to meet and interact with members inside and outside their own particular disciplines.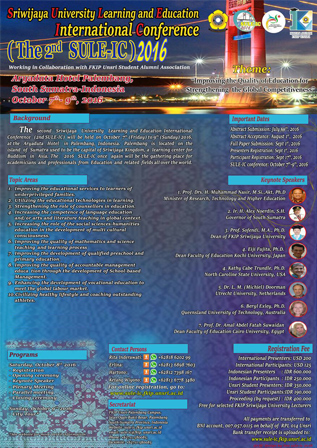 Important dates:
Abstract Submission: July 30th, 2016
Abstract Acceptance: August 1st, 2016
Full Paper Submission: Sept 1st, 2016
Presenters Regristration: Sept 1st, 2016
Participant Regristration: Sept 17th, 2016
SULE-IC Conference: October 7th - 9th, 2016
Announcements
No announcements have been published.
Vol 3, No 1 (2018): 3rd-SULE-IC
Table of Contents
Articles
Nelya Juita, Dian Eka Putra

Total Views : 215 times

1-9
Eka Agustina

Total Views : 283 times

10-18
M Muklas, Nurbayanah Nurbayanah

Total Views : 239 times

19-28
Ulfa Putri Andalasia, Azwandi Azwandi, Irma Diani

Total Views : 124 times

29-40
Riska Hasanah, Zuraida Zuraida, Rita Hayati

Total Views : 141 times

41-48
Mela Maresta, Rita Hayati, Rita Inderawati

Total Views : 422 times

49-67
L A Suganda, I Petrus, Zuraida Zuraida, D Kurniawan, Mardiana Mardiana

Total Views : 227 times

68-76
Rizka Sukowati, Subadiyono Subadiyono, Suhardi Mukmin

Total Views : 343 times

77-89
Rika Hardayanti, Nurhayati Nurhayati, Didi Suhendi

Total Views : 124 times

90-105
Aby Fatwa Negara, Mulyadi Eko Purnomo, Didi Suhendi

Total Views : 113 times

106-118
Nurhayati Nurhayati, Sukirno Sukirno, Latifah Ratnawati

Total Views : 242 times

119-125
P. J. Hariswan

Total Views : 159 times

126-130
Ghina Salsabila, Margaretha Dinar Sitinjak, Rita Hayati

Total Views : 155 times

131-144
Dwi Andriani, Sartini Sartini

Total Views : 133 times

145-151
Dita Selvina, Rita Inderawati, Machdalena Vianty

Total Views : 225 times

152-171
Farida R Wargadalem, Nanda Julian Utama, Lukman Nadjamuddin

Total Views : 187 times

172-181
Aulia Novemy D, Adhitya Rol A, Yunani Yunani

Total Views : 196 times

182-186
Sulkipani Sulkipani, Vina Amilia Suganda M, Edwin Nurdiansyah

Total Views : 444 times

187-193
Emil El Faisal, Umi Chotimah, Sulkipani Sulkipani

Total Views : 279 times

194-198
Emil El Faisal, Sulkipani Sulkipani

Total Views : 190 times

199-202
M Murniati, S Saparini

Total Views : 108 times

203-209
Biqom Helda Zia, Sardianto Markos Siahaan, Nyayu Khodijah

Total Views : 235 times

210-219
Sanjaya Sanjaya

Total Views : 143 times

220-230
Iyakrus Iyakrus

Total Views : 245 times

231-235
Aditya Nobery

Total Views : 198 times

236-240
Fauzan Musyabbih

Total Views : 129 times

241-243
Denny Ariansyah

Total Views : 107 times

244-249
Rizky Bagus Santoso

Total Views : 119 times

250-253
Retno Rianto

Total Views : 105 times

254-259
Dulmanan Dulmanan, Iyakrus Iyakrus, Meirizal Usra

Total Views : 128 times

260-266
Muhammad Deswin Pratama

Total Views : 109 times

267-273
Fajar Wahyu Edi

Total Views : 194 times

274-279
Ratno Purnamasari

Total Views : 92 times

280-284
M. Wisnu Age Prayoga

Total Views : 100 times

285-290
Riri Anggriawan

Total Views : 118 times

291-297
Novan Andriyan

Total Views : 116 times

298-305
Tedy Tanjung Taher

Total Views : 139 times

306-309
Sastianto Ahmad, Flora Rostika, Hartati Hartati

Total Views : 137 times

310-315
Efran Saputra, Syafruddin Syafruddin, Hartati Hartati

Total Views : 158 times

316-320
Andi Kurniawan

Total Views : 135 times

321-327
Arif Armadani Alsubiatun, Iyakrus Iyakrus, Sukirno Sukirno

Total Views : 174 times

328-338
Meirizal Usra

Total Views : 159 times

339-348
Ponidi Ponidi, Iyakrus Iyakrus, Rostika Flora

Total Views : 226 times

349-357
Yusef Rusdi, Fauziah N Kurdi, Rostika Flora

Total Views : 115 times

358-364
Reza Resah Pratama

Total Views : 115 times

365-371
Richi Afriansyah, Sukirno Sukirno, Iyakrus Iyakrus

Total Views : 187 times

372-376
Ade Hasbullah

Total Views : 188 times

377-383
Vina Amilia Suganda, Siti Hawa, Sulkipani Sulkipani

Total Views : 186 times

384-390
Taufik Rihatno, Sri Nuraini, Yufiarti Yufiarti, Ahmad Syukri Sitorus

Total Views : 295 times

391-395
Surti Kanti, Burhanuddin Tolla, Yufiarti Yufiarti

Total Views : 120 times

396-402
Syafdaningsih Syafdaningsih

Total Views : 114 times

403-409
S Arifin, Zulkardi Zulkardi, R I I Putri, Y Hartono, E Susanti

Total Views : 168 times

410-420
A Rahman, Zulkardi Zulkardi, Somakim Somakim

Total Views : 143 times

421-426
Baiduri Baiduri

Total Views : 134 times

427-442
N Herawati, Zulkardi Zulkardi, Darmawijoyo Darmawijoyo

Total Views : 107 times

443-450
Hardiyanti Indriani, Ratu Ilma Indra Putri, Darmawijoyo Darmawijoyo

Total Views : 215 times

451-457
S R Lestari, Yusuf Hartono, Somakim Somakim

Total Views : 120 times

458-466
Jayanti Jayanti, Rahmawati Rahmawati

Total Views : 149 times

467-477
Anggria Septiani Mulbasari, Nora Surmilasari

Total Views : 140 times

478-484
Asnurul Isroqmi, Allen Marga Retta, Tika Dwi Nopriyanti

Total Views : 321 times

485-493
R Wulandari, C Hiltrimartin, Darmawijoyo Darmawijoyo, Indaryanti Indaryanti

Total Views : 126 times

494-498
Kadek Mistawan, Somakim Somakim, Hapizah Hapizah

Total Views : 221 times

499-510
Endah Dwi Permata, Zulkardi Zulkardi, Darmawijoyo Darmawijoyo

Total Views : 135 times

511-519
Jawasi Jawasi, Zulkardi Zulkardi, Darmowijoyo Darmowijoyo

Total Views : 134 times

520-537
Khairun Nisak, Zulkardi Zulkardi, Darmawijoyo Darmawijoyo

Total Views : 110 times

538-546
Rahmawati Rahmawati, Jayanti Jayanti

Total Views : 145 times

547-556
Risda Intan Sistyawati, Arika Sari, Somakim Somakim

Total Views : 273 times

557-561
Desy Amelia, Ratu Ilma Indra Putri, Somakim Somakim

Total Views : 244 times

562-568
Ranny Novitasari, Zulkardi Zulkardi, Darmawijoyo Darmawijoyo

Total Views : 178 times

569-577
Hendra Pratama, Zulkardi Zulkardi, Darmawijoyo Darmawijoyo

Total Views : 106 times

578-583
Reny Shinta Sari, Ratu Ilma Indra Putri, Yusuf Hartono

Total Views : 264 times

584-589
F Meta, Y Hartono, Hapizah Hapizah

Total Views : 259 times

590-598
Firdaus Firdaus, Yusuf Hartono, Somakim Somakim

Total Views : 129 times

599-607
Marweny Handayani, Ratu Ilma Indra Putri, Somakim Somakim

Total Views : 148 times

608-615
Yanna Sanova, Ely Susanti, Ayu Mentari

Total Views : 129 times

616-626
Edwin Nurdiansyah, Emil El Faisal, Sulkipani Sulkipani

Total Views : 465 times

627-630
Messi Messi, Muhammad Kristiawan, Yasir Arafat

Total Views : 212 times

631-638
Yeni Wulandari, Bukman Lian, Yasir arafat

Total Views : 165 times

639-649
Rahma Danniarti, Muhammad Kristiawan, Tobari Tobari

Total Views : 152 times

650-663
Nur Rahmat, Bukman Lian, Muhammad Kristiawan

Total Views : 164 times

664-673
Hamdani Hamdani, Nila Kesumawati, Muhammad Kristiawan

Total Views : 440 times

674-681
Yusni Widawaty, Umi Chotimah

Total Views : 148 times

682-689
Wirda Wirda, Hudaidah Hudaidah

Total Views : 193 times

690-694
E D Kurniawan, Nopriyanti Nopriyanti, S D Sucipto

Total Views : 166 times

695-700
Nopriyanti Nopriyanti, Elfahmi Dwi Kurniawan, Safira Permata Dewi

Total Views : 185 times

701-708
Melly Ariska

Total Views : 177 times

709-718
Heru Setiawan, Farnia Sari

Total Views : 150 times

719-724
Merta Septiani, Ismail Petrus, M Yunus

Total Views : 360 times

725-736
Maria Puspa Sari

Total Views : 105 times

737-746
Kurnisar Kurnisar, Puspa Dianti, Camellia Camellia

Total Views : 146 times

747-753
Apriyanto Apriyanto, Bahar E, Ramadhon P D, Marisdina S, Junaidi A

Total Views : 130 times

754-765